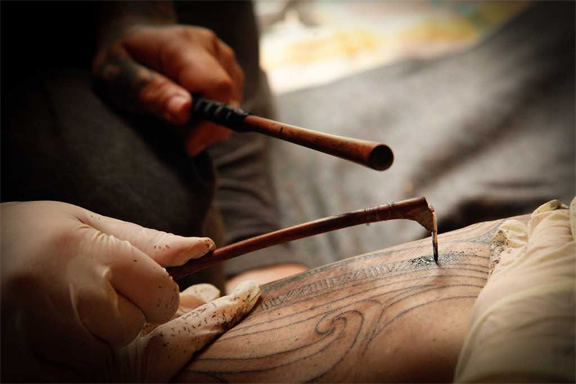 If you are curious to know what the Bible says about tattoos, this time we want to explain the cultural and biblical context about this.
There are really many opinions that exist on this subject since some condemn it and claim that it is a sin, while others explain that the Bible does not condemn it and promote it, now, let us study one of the verses that speak to us about this subject.
Do not injure your body because of a dead person. Don't get any kind of tattoo. I am the Lord. Leviticus 19:28 NIV
There are several things that we can study from this verse, first of all it was one of the holiness laws that God gave to Israel, God wanted Israel to be different from the other nations that were pagan and polytheistic; for example, the Phoenicians and Assyrians used the tattoo on the forehead in honor of their gods to supposedly obtain divine protection, the Egyptians also practiced this habit and we know that Israel was influenced by this people. You have to understand that the tattoo for that time, thousands of years before Christ, used to be done by cutting the skin and introducing the ink. So God wanted us to value the body since through it we respect the creation made by Him.
Now, we must consider the cultural aspect because there are many things that we do not comply with as a church and that are reflected in chapter 19 of Leviticus, for example eating blood (eating viscera), cutting the beard or the sideburns of the hair, also we do not consider the sowing statutes, then it is a mistake to defend this passage tooth and nail (Leviticus 19:28) and ignore the others.
But why did they used to get tattooed in ancient times?
This practice has existed for thousands of years, from people of special lineage or the military to criminals, idolaters and priests of many religions. The tattoo focused on representing people what they were or did. Nowadays, many people use it to adorn their skin and express some feeling or emotion.
So is it a sin to tattoo ourselves?
The answer is a resounding yes and the main reason is because as children of God, our bodies no longer belong to us, but are Christ's property.
I am crucified with Christ, and I no longer live, but Christ lives in me; and what I now live in the flesh, I live by faith in the Son of God, who loved me and gave himself for me. Galatians 2:20
Has God ever told you in prayer to get a tattoo? Not true, and it is that regardless of the cultural context our appearance as children of God must represent the kingdom to which we belong, as new creatures and I cannot imagine the tattooed saints walking the streets of the Celestial Jerusalem.
What makes an action a sin is usually more the intention than the action itself. The reason why many people get tattoos is to try to represent concepts or fashions that are part of the culture of this world, but that do not represent an identity in Christ or glorify God in any way, that is the big problem.
And if I have a tattoo, am I in sin?
No, because there are many children of God who have come to his feet with marks on their skin or different things. But once in God, our life becomes His, spiritually we are included in the spiritual body that represents His church, therefore, every action we do affects others, and in a certain way also affects the person of Jesus. .
Do you consider yourself a spiritual Christian? If so, you must understand that you are spiritually connected to Christ and therefore the Holy Spirit also dwells in you.
Do you not know that you are the temple of God, and that the Spirit of God dwells in you? If anyone destroys the temple of God, God will destroy him; for the temple of God, which you are, is holy. 1st Corinthians 3:16-17 KJV
I want to tell you that God loves you as you are, that is, if you met God with tattoos or with any type of clothing or behavior He loves you, but He also wants you to change, mainly from the inside out, because through our change they will be able to know that we are different, not because of what we say but because of what we do, how they will differentiate us if we dress or walk the same, there must be a difference in our lives.
I know that it is a controversial topic and many will not like this answer, but from our position we try to give you sincere and wise advice. If you already have a tattoo, nothing happens, continue on your path of faith, but if you are thinking of getting one, take your time and meditate if it is really God who is driving you to it or it will not be rather your own desires. Although tattoos don't harm anyone, they can harm you, not only in physical terms as has been proven many times, but also emotionally when you regret that decision in the future and it's too late.
The Bible commands us to behave with prudence and decorum, to honor our parents. Do your parents agree with this? Is the benefit of doing it greater than that of abstaining?
We must take care of our body and give it the value it deserves, preserve our health, image and try to please God in everything whenever we can. Many churches do not promote the practice of tattooing and neither do we, we advise you to take some time to know the word of it and enjoy in the presence of it because God will surely deal with your life. You do not necessarily have to lose your personality or everything completely, but we do hope that Christ can bring out the best version of you without having to alter anything in your body.
God bless you!