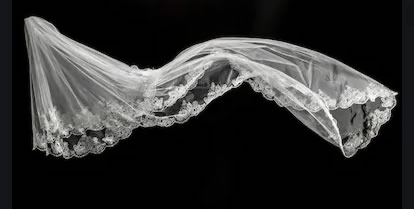 Today we will be talking about the use of the veil in Christian women, and what the Bible tells us about this garment. For us it is very important to show a biblical truth and to know what our God says about this.
First of all, what is the veil?
The veil is a cloth garment that has the function of covering the hair and in other cultures even the face, being used in many religions throughout the world. (Mainly in Eastern cultures). Some women use it throughout their lives according to their religion, when they are married or during some action (Prayers, ceremonies, among others), although today we will focus on the use of the veil in Christian women; taking into account that only some congregations usually do it according to the established norms of their church.
Is the veil a command from God?
This topic is usually controversial, since for congregations (a congregation is an autonomous church that freely unites with others like it to form a Christian denomination) where it is used, they allege that the woman who covers her hair when appearing at the altar usually pleases God more. Now, let's start by knowing the history of its use, knowing that this element has its roots in the Hebrew culture.
for the Hebrew people (Israel), a woman's hair is synonymous with beauty, and is a very attractive attribute, it is said that a woman who shows her hair while single, has the intention of conquering her future husband, then; It is not correct for the woman to do it since it is said that this is very provocative and can be a cause of infidelity in the marriage.
What does the Bible say about the veil?
On 1 Corinthians 11:13-15 He says in his verses:
Judge for yourselves: Is it proper for a woman to pray to God without covering her head? Doesn't nature itself teach you that it is dishonorable for a man to let his hair grow? On the contrary, it is honorable for women to let their hair grow; because instead of a veil she is given her hair.
In these verses we can see that for the Hebrews, it was of great importance that the woman covered her head to honor God and her husband, these women used to use the veil in their daily lives and not only as a ritual in the temple, it was more an aspect of culture, now we can see that also Paul says in the same chapter in the verse 16:
With all that, if anyone wants to be contentious, we do not have such a custom, nor do the churches of God.
That is to say, the apostle implies that whether they do it or not does not represent a problem, since it is part of a personal cultural decision that must be respected in each group and therefore it would not be attributed as a doctrine to the churches.
Should I wear the veil in my congregation?
As we can see, it is one more issue of culture and ethical aspects, rather than principles established by the word of God. Now, how can we react to this? because being obedient to the norms in our churches since obedience is important for the life of the believer, but it should not be taught as a biblical truth.
If in the congregation that we attend they use the veil as part of the rules of the church and you feel comfortable with it, then obey your pastors, because this does not mean that they are making a mistake. On the contrary, if you see a sister who does not do it, then you should know that neither of the two parties is wrong either by using it or not doing it, they are aspects of the essence of the congregation or norms of the established councils.
Something similar to this issue occurred with circumcision, in the New Testament we can find that this issue caused a lot of division, since some believers who came from Judaism imposed it on the Gentiles who converted to the Lord, but it is understood that the first time in that we were established as Christians was in the book of Acts and that our Lord Jesus Christ does not tell us about any ritual to approach Him.
The veil in marriage
Every woman dreams of one day arriving at the altar dressed in white, with her beautiful tulle veil, it is that the veil at weddings represents virginity and purity for our culture, in fact, there are many women who have already had sexual relations or have lived in concubinage and consider it disrespectful to use it on their wedding day, since they understand that many already know that they are not virgins. Although, some women see it as a complement to their wedding dress and use it in the same way. this being a beautiful complement to the long-awaited wedding dress for that dream day.
How a woman should dress in the congregation
The bible tells us about many qualities that the woman of God must have, and one of these is an impeccable and obedient conduct, 1 Timothy 2:9-10 He says:
Likewise, that women dress in decorous clothes, with modesty and modesty, not with ostentatious hairstyles, not with gold, or pearls, or expensive dresses; but with good deeds, as befits women who profess godliness.
Namely; it is not radiating vanity but purity, simplicity; In the same way, it is to understand that God has a special treatment with each one of us, if God deals with you that something in your way of dressing is wrong, or you do not feel comfortable, let yourself be transformed by the Lord, but remember that what will always prevail is the word of God and not a single tittle should be added to this, that is why we must ask the Holy Spirit to give us the wisdom to scrutinize the scriptures.
Should the veil be worn or not in the 21st century?
Well, the use of the veil is not something of great relevance for a woman of God, since the essential thing is to comply with the scriptures, to be in obedience to God and our authorities, something that we see that the Apostle Paul highlights, is that it should not be a subject to contend, nor is a woman more spiritual by what she wears, or not. In the new testament we can find that the first Christians were Jews who were called to repentance, but then we can see that the Gentiles, that is, the non-Jews, were also given the good news of salvation, and for At that time there were already many issues of culture linked to Judaism to which Paul mentions, as we saw earlier.
It can be seen that there are customs that are rooted in the Christian church, but it is not classified as a biblical foundation, and something that is important for the believer is to scrutinize the scriptures, not just what is said there, but also to understand the context, situation and cultural moment in which it was said. If you want to be a woman of God and you want to radiate the light of Christ, then look beautiful, pure decent as the Lord says, but the most important thing is that you win the world with your conduct and your good testimony.
God bless you