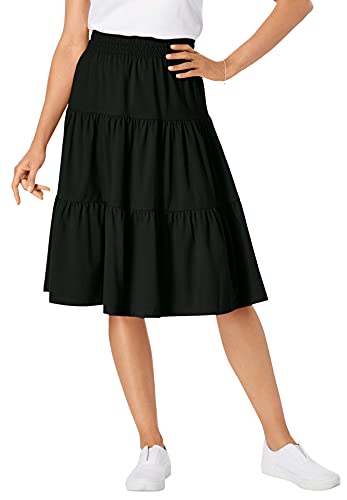 Youth christian skirts
Whose You said skirts are for older women? No!there are many models of dress skirts for Christian girls and not so young who want to look good and fashionable, styles that fit the body and that do not make you lose decorum. Perfect for Christian teens who want to look pretty and contemporary. Discover the ideal for you.
---
Elegant Christian Skirts
For you who minister in praise or like to go like a princess of God, you will love these models of beautiful skirts, not only to wear inside the church, but also at work or in a special event.
---
Long skirts for pentecostal christians
If you feel more comfortable wearing long models, that take care of your legs or you simply like modesty, there are designs that you will surely love. Remember that the important thing is that you feel comfortable and free to worship your Father whenever you dress.
---
How should a Christian wear a skirt?
This garment is elegant for women combined with a good blouse would be the perfect outfitRemember that if you wear a tight skirt, the correct thing to do is to wear a loose blouse, since, if not, you can end up looking very tight and you can highlight your figure so much to the point of looking very sensual. Also, don't be afraid of wearing tight clothes, since if you wear very loose clothes it can make you look older, and it is not what you want.
The historical background…
The skirt is a garment used since past centuries, it is characterized by being a garment that is worn from the waist to the ankles, it does not have any kind of separation between the legs, in fact it used to carry many meters of fabrics, and according to the class there was a variety of fabrics and designs, however, culturally it is also used by men, thus differentiating the man's skirt from that of the woman. An example of this was the Egyptian people, where the men wore the skirt to the knees with an ornament appropriate for men, while the women wore the same, but to the ankles.
Since time has passed, the skirt has been getting shorter and shorter, starting in the 60s of the 20th century, this was due to sexual liberalism, and the invention of birth control pills, driven by a designer who was inspired by a dancer , try a 25cm long skirt. this being much shorter than usual and failing to fulfill its main function of covering the legs. Also at that time the skirt was narrowed so that it further enhanced the female figure. It is impressive to see how the image of women has been denigrated in these times, however, we have the power to decide what to wear, but also how to wear it.
Skirts for fashionable evangelical christians
Yes, you can be a believer and be fashionable, simply what you should do is look for that skirt for christian lady ideal for you, you can also take risks, that is, if you have not dared to wear an ankle-length skirt, I invite you to take the risk of wearing it, there are models for young and old Christian women that look wonderful, perhaps one of them is the one that favors you the most. Remember that the skirt is a piece that cannot be missing in every woman's wardrobe, in addition, it can be combined.
It is important to mention that the appropriate cut for a skirt is to the knees or to the ankles, therefore, as Christians we must take this into account, since if it is very short the skirt can become very provocative and it is not the message that you want to give. For this reason, we invite you not to limit yourself to wearing a skirt, but to use the ideal one for you.